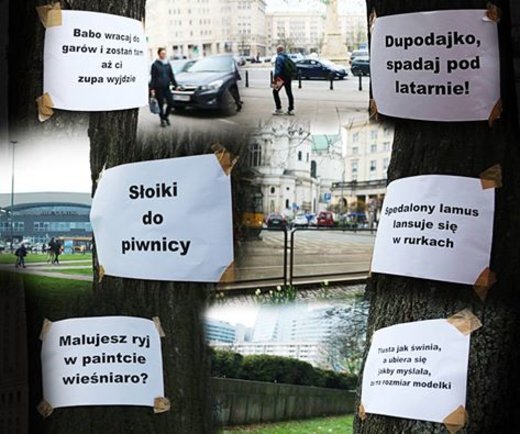 Words have power. #WezNieHejtuj
Netia launched a campaign #WezNieHejtuj (#StopTheHate), which is intended to draw attention to the negative phenomenon of hate. The campaign involved public figures, which together with the organizer will stigmatize aggressive comments and behavior.
For several days in various places in Warsaw you could find cards with offensive text. With such teaser Netia launched a campaign #WezNieHejtuj (#StopTheHate).
"As one of the largest Internet service providers in Poland our concern is the quality of discussion in the public space. That is why we have taken action that will draw attention to the phenomenon of hate. We are all its victims - individuals both public and private figures, children, adolescents, but also companies such as Netia and often our employees. We respect the constructive criticism, but we say a firm no to hate speech"- explains Eliza Wolszczak, specialist. Online communications.
Ambassadors of this venture are known people who repeatedly fell victim of hate speech - Paulina Młynarska, Bilguun Ariunbaatar, Dominika Gwit, Kamil Pawelski (Exclusive Tramp) and Maciej Dzięgielewski (Magic of Y). Together with Netia they will both stigmatize aggressive comments and behavior and also... apologize.
Fighting hate speech will also be carried in the public space. In cooperation with Onet Group on Hoża street there will be created a space where everybody who agree with the message of the action can sign up.
For the purposes of this project there was established as a special persona - Director of the Department. Hate Speech in Netia. His weekly adventures can be followed on FB profile Netia.
"We encourage all to join #WezNieHejtuj. All the people who also do not agree on the offensive, aggressive expressions in public space" - encourages Paulina Deja, junior manager on online campaign.
You can follow #WezNieHejtuj project on Netia's profile on Facebook and using hashtag #WezNieHejtuj.
About Netia:
Netia is one of the biggest and fastest growing telecommunication providers in Poland. It delivers comprehensive, integrated and user-friendly on-line solutions.
print